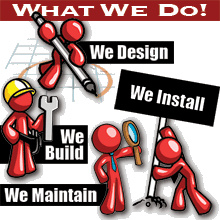 We'll handle it all for you!
Click for MORE >



Miller EG Design is a full-service design and product solutions provider for signage. But unlike sign companies who just design, build, install or maintain ... MEGD does it all! Miller EG Design understands that your signage and environmental graphics must blend with their environment and your brand.



So we evaluate the natural surroundings, architectural design of your building, and your brand identity. And then we work with you to design a signage package that fits your specific needs and budget. We'll handle all the permits and then fabricate and install your signage. Call 404.788.0150 or e-mail us for more information.



© 2012 - Miller EG Design, Inc. | Design - Lucas Design & Advertising